Perfect (Flawed #2) – Cecelia Ahern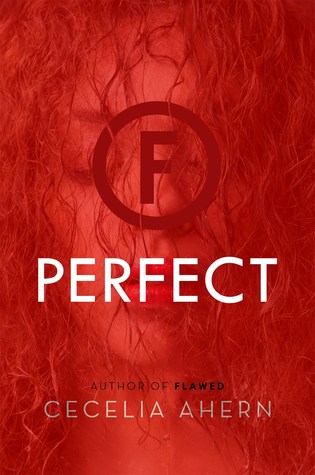 Title: Perfect (Flawed #2)
Author: Cecelia Ahern
Release Date: April 4, 2017
Publisher: Feiwel & Friends
Format: Ebook
Page Number: 352
Source: Netgalley
Celestine North lives in a society that demands perfection. After she was branded Flawed by a morality court, Celestine's life has completely fractured–all her freedoms gone.
Since Judge Crevan has declared her the number one threat to the public, she has been a ghost, on the run with Carrick–the only person she can trust.
But Celestine has a secret–one that could bring the entire Flawed system crumbling to the ground. A secret that has already caused countless people to go missing.
Judge Crevan is gaining the upper hand, and time is running out for Celestine. With tensions building, Celestine must make a choice: save just herself or to risk her life to save all Flawed people.
And, most important of all, can she prove that to be human in itself is to be Flawed?
4 out of 5 stars
---
Huge thank you to Netgalley and Feiwel & Friends publishing for allowing me to review this for my blog!
This is the second book in the Flawed series, if you haven't read that book, you probably shouldn't read this review as it could contain spoilers for the first in the series. You have been warned…
This book starts out with Celestine getting away from the Whistleblowers and having to leave her family behind in order to keep them safe. The story escalates quickly as she realizes she needs to find Carrick, her cell-mate from the Flawed prison. Celestine is aided by her Granddad and his friends, and finds Carrick.
She travels to a hidden bunker to start figuring out what to do and how to save all the Flawed from the wrongdoings of society. They come up with a plan to help everyone, and it involves a secret video. A video that Judge Crevan is after her for. He's willing to do anything in order for the footage to not be released, and Celestine is willing to do anything to not let him have it.
This is a wonderful end to this dystopian duology by Cecelia Ahern. As stated above, I got this book for review, and it officially comes out on April 4th. I am so happy to have read this, because I really enjoyed the first book of this series. YA dystopian always have a special place for me because I can fly through them, and it's so fun to root for the rebellion that is bound to happen. This is was a very typical second book in a dystopian series in that sense. This book was very political, and it was really interesting to me because of that. One complaint I have about this book is there was a little insta-love.
Okay, okay. I understand that Celestine and Carrick knew each other from the prison, but it was a little cheesy at some points. There was one super cute scene between them, though. Celestine is such a badass main character and I love reading from her perspective. The whole story is based on her wanting to change the way that people think about society, so she has to be strong. She was a very believable character to me.
Overall I enjoyed this book. If you're in the mood for a dystopian, definitely check out this series!
Series: