Throne of Glass (Throne of Glass #1) – Sarah J. Maas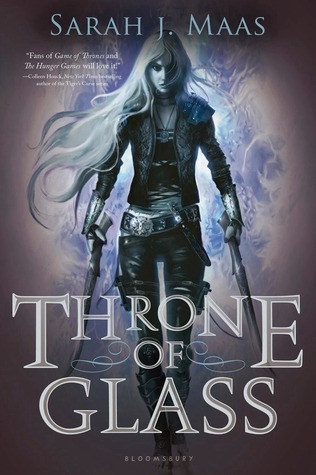 Title: Throne of Glass (Throne of Glass #1)
Author: Sarah J. Maas
Release Date: August 2, 2012
Publisher: Bloomsbury USA Childrens
Format: Paperback
Page Number: 404
Source: TBR Pile
In a land without magic, where the king rules with an iron hand, an assassin is summoned to the castle. She comes not to kill the king, but to win her freedom. If she defeats twenty-three killers, thieves, and warriors in a competition, she is released from prison to serve as the king's champion. Her name is Celaena Sardothien.
The Crown Prince will provoke her. The Captain of the Guard will protect her. But something evil dwells in the castle of glass–and it's there to kill. When her competitors start dying one by one, Celaena's fight for freedom becomes a fight for survival, and a desperate quest to root out the evil before it destroys her world.
5 out of 5 stars
---
Celaena Sardothien, the coolest sassiest assassin you will ever meet.
Throne of Glass stars out with talking about Celaena and her imprisonment in Endovier, the worst death camp. It goes through why she was sent to Endovier, and you find out that she is an 18 year old assassin who is being chosen to participate in the competition to be the King's Champion. The Crown Prince, Dorian, chooses her to be his Champion in the competition, and brings her to train at the castle with the other Champions.
This book chronicles her training, Tests, and difficult life at the castle during this competition. Love interests are introduced. Friendships are made. Celaena is put to the ultimate test…
You guys. This book. It. Was. So. Amazing. I. Can't. Even. Explain.
So a lot goes down in this book and it's hard to talk about it without spoiling anything, but Sarah J. Maas is one of my new favorite authors for sure. The way this book is written is so fast-paced, easy to understand but is actually a quite complex world, and so unbelievably well written. It's been awhile since I've read a book and enjoyed every single part of it, but holy hot dang this book is so fricking good.
I didn't want to give into the hype surrounding this series because I didn't want to be disappointed, but I'm so glad I read it. I may or may not have already ordered books 2, 3, and 4… Anyway. I can't wait to see where the rest of this series goes.
I loved the friendship Celaena had with Nehemia. I love reading about friendships, and it was cool to see the two different personalities mesh together so well. I loved this aspect of this book. The friendship is put to the test, but they are still besties by the end *kind of not a spoiler at all.*
This love triangle is perfect. First of all, I HATE love triangles. With a burning passion. I'm all for the idea of "if you fall in love with another person after you're already 'in love,' just choose the second person because you're obviously not in love with them," but this book didn't have that. She is introduced to both of them at the same time. So if you didn't know, the love triangle is between Celaena, Dorian, and Chaol. Throughout the entire book I've been team Dorian because I think he's perfect, but right at the end. Wow. If you've read this you know what I mean. Dorian has some little issues that he shouldn't have to burden Celaena with, but he loves her so much and she loves him. Ugh oh my gosh. But Chaol is also perfect. He just has a harder outer shell to break through. He's also more shy, and has always been in the shadows of Dorian because you know, he's not the Crown Prince. But he's such an awesome guy. Both Chaol and Dorian love Celaena, but Celaena doesn't even know the half of it yet. It's a hard life when the love triangle is so well written that you don't even know who you like better. Right now I'm leaning towards Chaol, but I still have 5 books…
The magic in this book is super edgy and cool to read about, too. I like that it's banned, but not completely gone. I cannot wait to see where the rest of this series goes. I'm surprised I've dodged all of the spoilers up until now. It's kind of hard to believe considering I've heard so many people rave about this book.
PLEASE READ THIS BOOK! The fantasy aspects aren't super difficult to pick up, so if you're new to fantasy, try this one out. Everyone needs to read this. It's so good it hurts me physically.