There are so many exciting upcoming releases in May of this year, and I just wanted to talk about a few of them! I want to start doing more non-review related posts because I don't want my blog to be as structured as it has been for awhile.
Dreamfall (Dreamfall #1) – Amy Plum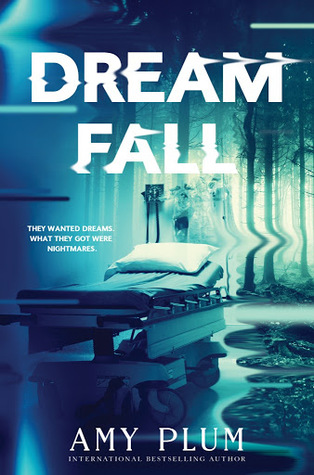 Cata Cordova suffers from such debilitating insomnia that she agreed to take part in an experimental new procedure. She thought things couldn't get any worse…but she was terribly wrong.
Soon after the experiment begins, there's a malfunction with the lab equipment, and Cata and six other teen patients are plunged into a shared dreamworld with no memory of how they got there. Even worse, they come to the chilling realization that they are trapped in a place where their worst nightmares have come to life. Hunted by creatures from their darkest imaginations and tormented by secrets they'd rather keep buried, Cata and the others will be forced to band together to face their biggest fears. And if they can't find a way to defeat their dreams, they will never wake up.
Release Date: May 2, 2017
This book sounds like such an interesting paranormal book! I love books that slip into the dream world, and think this would be an interesting option because it's about a group of people getting tested on, but still is in a paranormal feeling world. I think this would be fun to read, especially because it is the first in a new series. I would love to start some brand new series because I only ever read older series, and get stuck behind on everything…. Anyway, I hope to give this book a try when it comes out.
---
You Were Here – Gian Sardar
What if the past is never buried?
Death, accidental and early, has always been Abby Walters's preoccupation. Now thirty-three and eager to settle down with her commitment-shy boyfriend, a recurring dream from her past returns: a paralyzing nightmare of being buried alive, the taste of dirt in her mouth cloying and real. But this time the dream reveals a name from her family's past. Looking for answers, Abby returns home to small-town Minnesota for the first time in fourteen years, where she reconnects with her high school crush, now a police detective on the trail of a violent criminal. When Abby tries on her grandmother's mesmerizing diamond ring, a ring she always dreamed would be hers, she discovers a cryptic note long hidden beneath the box's velvet lining. What secret was her grandmother hiding? And could this be the key to what's haunting Abby? As she begins to uncover the traces of a love triangle gone shockingly wrong nearly seventy years before, we, too, see that the layers of our lives may echo a past we've never known. With mesmerizing twists and a long-buried secret that may finally rise to light, You Were Here weaves together two worlds separated by decades, asking if the mistakes made in past lives can ever be corrected in the future, and if some souls are meant to find one another time and time again.
Release Date: May 16, 2017
I have been getting more interested in mysteries lately, and I hope to read more this year. I am currently reading The Woman in Cabin 10, and am really enjoying it thus far. I think mysteries are a great way to add some suspense to your life. It's always good to get a little freaked out sometimes. I think this book sounds interesting because it's about a woman going back to her hometown and finding a high school crush, but then something goes wrong. There will obviously be some romance, but I feel like it will mainly focus on the mystery/thriller aspect of the story.
---
Juan Pablo and the Butterflies – J. J. Flowers
After facing problems with a local drug cartel in Mexico, a man and his best friend must flee to California for their freedom and a chance for survival.
In the small town of El Rosario, Mexico's butterfly sanctuary, drug traffickers begin to take over and disrupt the life of the community. As Juan Pablo's grandmother, the medicine woman of the town, lies on her deathbed, she tells her grandson that he must follow the migration of butterflies to Pacific Grove, California—to another butterfly sanctuary—where someone will be waiting for him. When Juan Pablo uses one of his grandmother's poisons on members of the cartel, he and his best friend Rocio must leave for California as soon as they can and follow the butterflies. But is he following the wings of freedom? Or death?
Release Date: May 9, 2017
I haven't read very many books about people from Mexico, and I believe that this would be an interesting read because it would be so different for me. I think the premise of this book sounds quite interesting because it's about leaving something scary and bad, and coming to try and make a new life. I think that this book will actually be twisted and creepy in a way. Just in the synopsis it talks about the main character killing some people then moving away to try and make a better life for himself. I don't know, it sounds interesting because it's unlike what I normally read.
---
I hope these were some decent recommendations from a reader who hasn't read them yet… I think these books will be interesting, and I hope I get to them this year, or at least buy one or two of them. I think the one I'm most excited for is Juan Pablo and the Butterflies. I think reading diversely is important, and for me this would be a diverse read.
Best of luck in your endeavors for finding new releases in May!