The Woman in Cabin 10 – Ruth Ware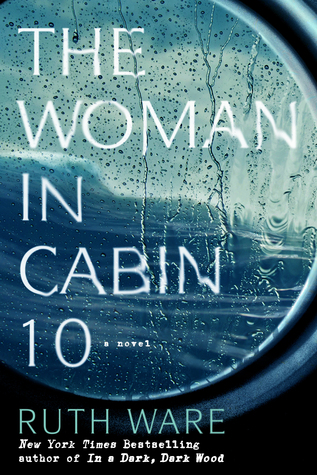 Title: The Woman in Cabin 10
Author: Ruth Ware
Release Date: June 30, 2016
Publisher: Gallery/Scout Press
Format: Audiobook
Page Number: 340
Source: Library
In this tightly wound story, Lo Blacklock, a journalist who writes for a travel magazine, has just been given the assignment of a lifetime: a week on a luxury cruise with only a handful of cabins. At first, Lo's stay is nothing but pleasant: the cabins are plush, the dinner parties are sparkling, and the guests are elegant. But as the week wears on, frigid winds whip the deck, gray skies fall, and Lo witnesses what she can only describe as a nightmare: a woman being thrown overboard. The problem? All passengers remain accounted for—and so, the ship sails on as if nothing has happened, despite Lo's desperate attempts to convey that something (or someone) has gone terribly, terribly wrong…
With surprising twists and a setting that proves as uncomfortably claustrophobic as it is eerily beautiful, Ruth Ware offers up another intense read.
3 out of 5 stars
---
My first audiobook is now under my belt! I have to say, I really enjoyed listening to an audiobook. I hope to do so again in the future.
Let's see. I don't know exactly how I felt about this book because it's not something I would typically reach for. I like mysteries, but this had a crime fiction vibe to it, I didn't hate it, but I didn't think it was anything spectacular.
This novel is about a woman, Lo Blacklock, who finds herself reporting for her job on a fancy-schmancy cruise ship. She is supposed to make connections with people as this is her first real breakthrough. She is a little shaken as she boards the cruise ship because just days before her house is robbed while she's there. This was my first disappointment with the story. The burglary was never talked about again! There was no point of having it in the first place. Anyway, she goes onto this cruise ship and has to try and get ahold of herself again. Things start happening and she hears a scream and a large splash one evening. Hmm. Sounds a little sketchy. She starts investigating and ends up getting in trouble.
This is pretty much the whole book, and because I listened to it on audio it went by much slower than it would have had I physically read it. I thought that Lo was an irritating main character to follow. She didn't really have anything special about her, and she was so whiny.
I loved the suspense of this book, and that is what saved it for me. The whole time I was listening to it I was on the edge of my seat. I did predict who the bad guys were, but I think it was because I had time to think while listening to it. I think the whole thing was fairly predictable, but there was quite a bit of suspense tied up around it.
There were so many loose ends at the end of the book, though. I don't know who wrote on her mirror. Or who took the mascara. Or how she got caught. Or who the burglar really was at the beginning… ugh. I think that this could have been developed a little more and it would have been greatly improved.
Overall, I think this was a good book. It was suspenseful, but a little predictable. The whole plot could have been fixed if there was some communication and trust, but it wouldn't have been as suspenseful. I did LOVE the narrator of this though. She was British, so it was fun to listen to. More elegant than an American accent!
Tea of Choice: (I'm thinking of making this a new part of my reviews because I almost always am drinking tea while writing a blog post. I will just mention the tea I am drinking at the moment, or one I enjoy!)
Hyvee 100% Natural Green Tea
I'm not a huge green tea drinker, but I'm trying desperately to enjoy it. It's my goal to be able to drink all my tea with no sugar so then you can actually taste the tea… Because I don't drink a lot of green tea I don't know how it compares to others of better quality. This is probably fairly lower tier as it is cheap and from a grocery store, but I am *trying to* enjoy it.