Tricks (Tricks #1) – Ellen Hopkins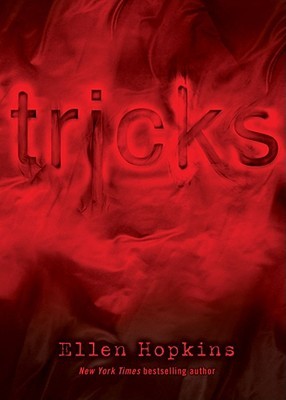 Title: Tricks (Tricks #1)
Author: Ellen Hopkins
Release Date: August 25, 2009
Publisher: Margaret K. McElderry
Format: Hardcover
Page Number: 627
Source: TBR Pile
Five teenagers from different parts of the country. Three girls. Two guys. Four straight. One gay. Some rich. Some poor. Some from great families. Some with no one at all. All living their lives as best they can, but all searching…for freedom, safety, community, family, love. What they don't expect, though, is all that can happen when those powerful little words "I love you" are said for all the wrong reasons.
Five moving stories remain separate at first, then interweave to tell a larger, powerful story — a story about making choices, taking leaps of faith, falling down, and growing up. A story about kids figuring out what sex and love are all about, at all costs, while asking themselves, "Can I ever feel okay about myself?"
2 out of 5 stars
---
If you would have asked me what I would have rated this book about halfway through I might have said 5 stars, but the ending just fricked me up and I really didn't enjoy it.
This story is about five teenagers; they all get caught up with people and say "I love you" and bad things happen.
There were LOTS of triggers in this book, so if you're sensitive to rape, sex, drugs, alcohol, dysfunctional family units, parents dying, gambling, or prostitution, DO NOT READ THIS.
I don't typically read books like this. Ellen Hopkins is the only author that I read about drugs, but I did not like this book very much! It was kind of confusing having 5 different perspectives. All the girls seemed so similar to me, and there were three of them. It was hard for me to separate them.
I honestly don't even know how to review this because there was so much that happened, but none of it plot driven at all. I'll give it a shot, I guess.
All these teenagers are desperate to find love. The gay boy lives on a farm with his father and basically gets banished from his home. One is a typical preacher's daughter who ends up being kind of promiscuous. One girl has a broken family unit where her mother gets paid to let men rape her. One girl lives in the shadow of her older sister. And one boy has a problem with gambling and drugs.
The characters don't even all meet up in the end. What the heck. I was waiting for some dramatic meet up situation and for everyone to figure out their lives together, but no. There was a brief meet up situation with two of the girls, but it was in very sad circumstances.
Ugh. I really did not enjoy this because of the last half. Ellen Hopkins has such a beautiful and intoxicating way to write that just pulls you in, but damn I didn't like the content.
There was so much sex. So much unnecessary sex. After reading the little informational thing at the back, it talked about how her goal for this was to highlight the issue of child prostitution in the United States, so I get it, I guess. But there were pretty explicit sex scenes to claim this is a YA novel.
I'm 18 and I was still disturbed by it, I don't even know what I would have done if I read this when I was 13 or 14. I read Perks of Being a Wallflower in early middle school and was traumatized…
I don't know, honestly. Only read this if you're not super triggered by what I listed above.