The Rose and the Dagger (The Wrath and the Dawn #2) – Renee Ahdieh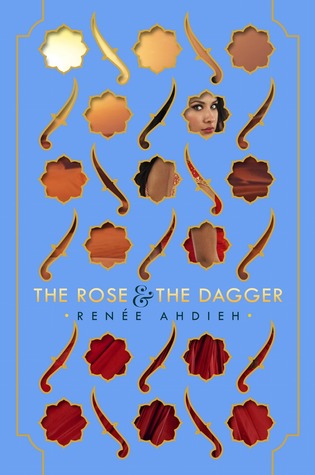 Title: The Rose and the Dagger (The Wrath and the Dawn #2)
Author: Renee Ahdieh
Release Date: April 26, 2016
Publisher: Putnam's Sons Books for Young Readers
Format: Hardcover
Page Number: 416
Source: TBR Pile
The darker the sky, the brighter the stars.
In a land on the brink of war, Shahrzad is forced from the arms of her beloved husband, the Caliph of Khorasan. She once thought Khalid a monster—a merciless killer of wives, responsible for immeasurable heartache and pain—but as she unraveled his secrets, she found instead an extraordinary man and a love she could not deny. Still, a curse threatens to keep Shazi and Khalid apart forever.
Now she's reunited with her family, who have found refuge in the desert, where a deadly force is gathering against Khalid—a force set on destroying his empire and commanded by Shazi's spurned childhood sweetheart. Trapped between loyalties to those she loves, the only thing Shazi can do is act. Using the burgeoning magic within her as a guide, she strikes out on her own to end both this terrible curse and the brewing war once and for all. But to do it, she must evade enemies of her own to stay alive.
The saga that began with The Wrath and the Dawn takes its final turn as Shahrzad risks everything to find her way back to her one true love again.
4 out of 5 stars
---
Yay to continuing with series!!
I picked this book out of my TBR jar in my most recent weekly reading vlog and listened to it on audio while reading it, and IT WAS SO GOOD. I was shaken and stirred at all the right parts.
This book follows Khalid and Shahrzad right after what happened at the end of The Wrath and the Dawn. Shahrzad is separated from Khalid, and she's in a camp with Tariq, Irsa, her father, and some other guards and random people. She's apparently more safe there than at the palace *tsk* and she is trying to find a way back to Khalid without getting caught/getting into more trouble than it's worth. She bonds with her sister again after being gone for so long, and it GOES DOWN in this sequel.
Okay, so without spoilers, I really enjoyed this book. I didn't give it 5 stars for the fact that I wish I would have had more character development from some of the side characters, Irsa didn't deserve that, and the climax *although great* was so short.
SPOILERS:
Leave if you've not read this book.
So I was seriously shaken and stirred beyond belief when I found out about Despina. omg I was not ready for that. I knew something was a little fishy when she decided that she was going to leave with Shahrzad's uncle, but what?! I was pleasantly surprised with Yasmine and how she was dealt with in the ending. I like that Khalid and Shahrzad made her the new Calipha person. yay for her. I always liked her character even though she was irritating. She was supposed to be, so she was well crafted.
I feel so so so bad for Irsa. I almost started crying. There were almost tears. I would have started crying if I wasn't so sick, but alas. Rahim was one of my favorite side characters and I knew everything was way too good to be true. I had less than 100 pages left and everything was going super well and I just KNEW that something was up. I had the inkling that there was too much happiness.
The ending was everything that I wanted. Within the last 20 pages so much happened, and I was not ready for Shahrzad's dad to fricking stab Khalid. Then save him… hmm. Okay. I mean, I thought he was going to die and I was about to be really sad but really impressed with Renee Ahdieh, but then he didn't die and it was all fine and dandy. The ending was so cute with the little kid Caliph. Aww. S'cute.
END OF SPOILERS.
Overall, I would highly recommend this series! I really want to read the novellas so then I can get some more insight to these characters, so look out for those reviews, too!
Series:
The Moth and the Flame (The Wrath and the Dawn #0.25)
The Crown and the Arrow (The Wrath and the Dawn #0.5)
The Wrath and the Dawn (The Wrath and the Dawn #1)