A Court of Thorns and Roses (A Court of Thorns and Roses #1) – Sarah J. Maas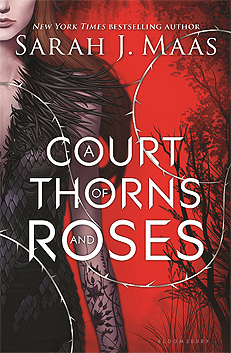 Title: A Court of Thorns and Roses (A Court of Thorns and Roses #1)
Author: Sarah J. Maas
Release Date: May 5, 2015
Publisher: Bloomsbury
Format: Paperback
Page Number: 416
Source: TBR Shelf
Feyre's survival rests upon her ability to hunt and kill – the forest where she lives is a cold, bleak place in the long winter months. So when she spots a deer in the forest being pursued by a wolf, she cannot resist fighting it for the flesh. But to do so, she must kill the predator and killing something so precious comes at a price …
Dragged to a magical kingdom for the murder of a faerie, Feyre discovers that her captor, his face obscured by a jewelled mask, is hiding far more than his piercing green eyes would suggest. Feyre's presence at the court is closely guarded, and as she begins to learn why, her feelings for him turn from hostility to passion and the faerie lands become an even more dangerous place. Feyre must fight to break an ancient curse, or she will lose him forever.
5 out of 5 stars
---
I loved everything about this whole book and I have no idea how I'm going to make coherent thoughts about it. I just finished this literally 5 minutes ago, and I NEED the next book. Right now.
This story follows Feyre who takes care of her family in her village, but finds herself in the faerie realm of the Spring Court with the High Fae, Tamlin and Lucien. Feyre despises the two, and their whole world, when she gets there, but everything gets turned upside down when she realizes how kind and loving Tamlin could be.
The curse set upon the land, the blight, comes from the Queen person and Feyre isn't allowed any details about the whole situation. Tamlin sends her back to her family in order to keep her safe, but she feels the burning desire to return to the faerie realm. She goes back to the manor in the Spring Court and finds it in rubble, and decides to go after Tamlin and Lucien…
okay there are going to be hecka spoilers because I don't want to conceal any of my thoughts about this. If you haven't read this book you can leave, but keep on reading along for all the spoilers :)
I. LOVED. THIS. BOOK. Oh my lord. I read this slowly because I didn't want it to end. Sometimes I drudge through books just to get them done, but I wanted this to last 5ever (it's like forever but longer).
At the beginning of this I was so pissed off because her family didn't care about her. Excuse me she is the one keeping y'all alive and you're not being appreciative? Not okay. So not okay. She's out in the forest trying to find you food and you're bitching about how your shoes don't look pretty enough… yikes.
I was a little surprised when she didn't get attacked by the wolf/faerie at the beginning because I would have thought he would have tried to stand his ground, but it makes sense after you find out why and omg I loved everything about this.
I loved that Lucien and Feyre were sort of like siblings in the way that they bickered. I think if Feyre had a normal relationship with her sisters it would have been similar to that. She and Lucien become friends and it's just so cute because she has a normal (kind of) friendship type of relationship. She's happy because she has a friend, but mostly because of Tamlin.
Oh man. This hunky faerie stole my heart right from the beginning. Now, I hope that in the next book Feyre doesn't second-guess their love because he just needed to break the curse, because he actually does love her. Tamlin has been what I've been looking for in a love interest in a book for quite some time. Right at the beginning I thought it was going to be a love triangle between Feyre, Tamlin, and Lucien, but then I realized that Lucien and Tamlin are too good of friends yada yada.
The sexy times of this. Holy shit. They had me shaken and stirred because they were so well written. Damnnnnnnn. They love each other so much and it just warms my heart to see people loving each other. I also LOVED that Feyre was totally open and happy about having sex. I feel like the "normal" YA books have a taboo on not having sex, and not enjoying it especially if you're female. I think it's ridiculous because all people should embrace their bodies, and I loved that Feyre wasn't apologetic about any of her feelings.
One thing I'm kind of confused about are Tamlins claws. Do they come out of his knuckles or the smaller knuckles that are next to his nails? I was focussing too much on that, but I couldn't help it.
The Spring Court just sounds lovely and I want to live there. Other than the fact that there are evil faeries roaming around… I LOVED the swimming in starlight scene. Awwwww. So cute. I just can't sometimes.
Okay, I know that I'm probably not supposed to like Rhysand right now, but I've heard lots of people talking about him. I'm only assuming that he's going to play a bigger role in the next book, but I started to kind of like him by the end. He was unapologetically himself even though he'd been broken down by Amarantha. I feel bad for him because he's her whore, but it was the only thing he could do to save his people of the Night Court. Ugh. I just want him to by happy. But I kind of want him to be happy with Feyre. I'm not saying that I'm team Rhysand, but I could see my opinion switching to l him from Tamlin… *did I say that don't hate me*
The ending of this book is epic and I loved every second of it. I was on the edge of my seat *bed* while reading this and couldn't put it down. I should be studying for my final right now but I had to know what happened. I'm also starting the Randomathon readathon tomorrow and didn't want to carry this over…. but you know. I should be studying. Curse you, wonderful books for distracting me from my work. *oh well probably not going to study anymore anyway*
I need the second book. I know that I'm going to love it, and I think I'm going to start it tomorrow because I'm looking forward to it that much. I don't normally marathon series, but I have to know what happens with everyone. I already know this is one of my favorite series, because this is one of the best books I've read this year.
Thanks for reading to the end if you're still here. Please let me know how you felt about this book in the comment section because I have to talk to someone about it!!!
Series:
A Court of Mist and Fury (A Court of Thorns and Roses #2)
A Court of Wings and Ruin (A Court of Thorns and Roses #3)
A Court of Frost and Starlight (A Court of Thorns and Roses #3.1)