The Assassin's Blade (Throne of Glass #0.1, #0.2, #0.3) – Sarah J. Maas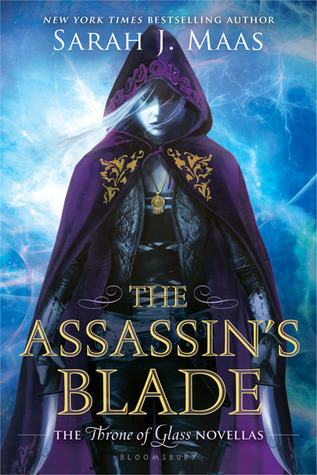 Title: The Assassin's Blade (Throne of Glass #0.1, #0.2, #0.3)
Author: Sarah J. Maas
Release Date: March 4, 2014
Publisher: Bloomsbury
Format: Paperback
Page Number: 438
Source: TBR Shelf
Celaena Sardothien is her kingdom's most feared assassin. Though she works for the powerful and ruthless Assassin's Guild, Celaena yields to no one and trusts only her fellow killer for hire, Sam.When Celaena's scheming master, Arobynn Hamel, dispatches her on missions that take her from remote islands to hostile deserts, she finds herself acting independently of his wishes–and questioning her own allegiance. Along the way, she makes friends and enemies alike, and discovers that she feels far more for Sam than just friendship. But by defying Arobynn's orders, Celaena risks unimaginable punishment, and with Sam by her side, he is in danger, too. They will have to risk it all if they hope to escape Arobynn's clutches–and if they fail, they'll lose not just a chance at freedom, but their lives . . .A prequel to Throne of Glass, this collection of five novellas offers readers a deeper look into the history of this cunning assassin and her enthralling–and deadly–world.Included in this volume: "The Assassin and the Pirate Lord""The Assassin and the Healer""The Assassin and the Desert""The Assassin and the Underworld""The Assassin and the Empire"
---
The Assassin and the Pirate Lord (Throne of Glass #0.1)
5 out of 5 stars
I love being back in this world and am so happy to be reading this series again. I have only read the first book, so it's nice to see Celaena before the events of Throne of Glass. Sarah J. Maas has quickly become one of my favorite authors and I'm pumped to read everything she's written so then I can be caught up for when she releases new books.
This novella followed Celaena and Sam, two assassins, when they go to visit the Pirate Lord. The sixteen year old Celaena becomes very passionate about the slave trade industry, and finds her own way to put a stop to it.
I really enjoyed this novella and loved Sam. I don't know what happens to him or if he's part of the full series, but I really hope he comes into the main story sometime soon. He's so cute and sassy. I love that he's sarcastic and sasses Celaena; I feel like she needs that sometimes. She needs some sense knocked into her.
Can't wait to continue reading these novellas!
---
The Assassin and the Healer (Throne of Glass #0.2)
4 out of 5 stars
This novella followed Celaena and a girl named Yrene Towers. This took place in a small town at a pub that Yrene worked at, and Celaena was there after the events of The Assassin and the Pirate Lord. She was thrown out of the Assassin's Guild, and her punishment wasn't mentioned other than her being beat up and bruised all over.
Celaena sat in the back of the pub just looking for someone to fight, and the barmaid, Yrene, is just trying to make some extra money so she can go and train to be a healer.
I enjoyed this story, but it was a little slow. It was very short, so I don't know why I felt like I was trudging through a little. I feel like Yrene is going to come up again in the future (if she hasn't already) because her last name is Towers and that has to do with the title of book #6 (?).
I liked that Celaena showed Yrene how to fight by the end because now she can defend herself and it was a bonding experience. Yay friendships. Celaena needs some friends in her life because she's always so serious. I mean she is an assassin, so she is supposed to be serious, but you know what I mean.
---
The Assassin and the Desert (Throne of Glass #0.3)
5 out of 5 stars
This has been my favorite novella so far because I loved the characters and the atmosphere of the story! Celaena is sent to an assassin camp in the middle of the Red Desert as her punishment for disobeying Arobynn Hamel. She has to get a letter of recommendation from the Master by the end of one month to be sent back with her.
The setting for this was very cool and I was intrigued the whole time. I loved that it was set in the middle of a desert, and it was interesting that most of the assassins that were being trained there had taken a vow of silence. They just communicated with gestures and expressions rather than words. I found it to be a unique part of the story that I wasn't expecting.
I loved the characters in this story because they were so fun to read about. I loved Ansel *at the beginning,* I LOVED Ilias, and Celaena grew so much throughout this novella.
I loved this so much. It gave me so much insight to Celaena's life, and I can't wait to read the last two novellas!!
Series:
The Assassin and the Underworld (Throne of Glass #0.4)
The Assassin and the Empire (Throne of Glass #0.5)