A Court of Wings and Ruin (A Court of Thorns and Roses #3) – Sarah J. Maas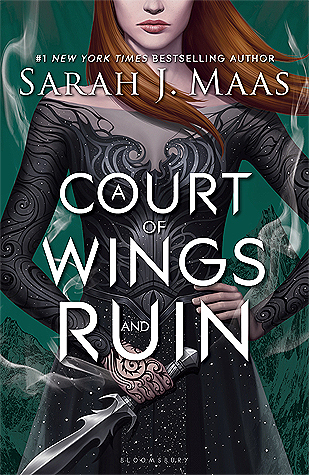 Title: A Court of Wings and Ruin (A Court of Thorns and Roses #3)
Author: Sarah J. Maas
Release Date: May 2 2017
Publisher: Bloomsbury
Format: Hardcover
Page Number: 705
Source: TBR Pile
Looming war threatens all Feyre holds dear in the third volume of the #1 New York Times bestselling A Court of Thorns and Roses series.
Feyre has returned to the Spring Court, determined to gather information on Tamlin's manoeuvrings and the invading king threatening to bring Prythian to its knees. But to do so she must play a deadly game of deceit – and one slip may spell doom not only for Feyre, but for her world as well.
As war bears down upon them all, Feyre must decide who to trust amongst the dazzling and lethal High Lords – and hunt for allies in unexpected places.
5 out of 5 stars
---
I don't understand how people didn't like this book. After I write this review I'm going to watch some book review videos on YouTube, because I loved this book!
This was a great continuation of the Court of Thorns and Roses series, and I honestly do not understand why people hated this book so much! Everything wrapped up perfectly and all the characters grew so much.
This beginning of this book follows Feyre in the Spring Court deceiving Tamlin and everyone else in order to get the information she needs to return to the Night Court. First off, that's such a badass way to start a book. Loved the deception even if it was sad at times. Then she and the rest of the Night Court family have to figure out what to do with the Cauldron situation and how to defeat Hybern and fix literally everything that everyone had messed up…
But this was so good. I do admit, it was VERY slow in the middle. Part two was so slow, but it's just one of those books you have to get into the groove of reading larger sections at one time and you're A OK. That being said, I'm all here for the slow burn books. I love when you have to wait to figure everything out. It builds suspense and makes you want to finish it even more. This book did take me quite awhile to read, but I think it's because I started it and then got distracted because I was home for winter break still and then I took a trip to visit my aunt, uncle, five-year-old cousin, and two newborn twin girls, but I thoroughly enjoyed this nonetheless.
I cannot wait to see what happens in the next book because this was originally supposed to be a trilogy, I think. I need to know what happens with Nesta and Cassian, because their mating bond is going to snap into place any time and everyone knows it. Elain and Lucien are going to have their mating bond situation all figured out and they're going to be helplessly in love cause AWW.
Also, Amren. I was pissed off when I found out that she was lying to Feyre, but then it all worked out so I'm cool with that. Rhys though.
Oh. My. Gosh. I thought he was actually going to stay dead forever and when Feyre found out that he also made a bargain with a monster I was so shooketh. Because she did the same thing and didn't tell him and he did the same thing to her because they loved each other so much that they just didn't want one another to be mad or sad or worried. And Feyre went and found the mirror for the Bone Carver. Excuse me. Cool and so badass.
One of my favorite parts from this book was the whole scene where Feyre goes and summons the Suriel and then it also brings Ianthe and her cronies. SHOOK. I was shook. I loved that Feyre stayed with the Suriel and also led Ianthe and those people to their death, but not before Rhys figured out how to get the Weaver. Man oh man.
I do have to admit that A Court of Mist and Fury was my favorite of the series, but I was not disappointed by the ending of this book at all :)
Series:
A Court of Thorns and Roses (A Court of Thorns and Roses #1)
A Court of Mist and Fury (A Court of Thorns and Roses #2)
A Court of Frost and Starlight (A Court of Thorns and Roses #3.1)