A Wrinkle in Time (Time Quintet #1) – Madeleine L'Engle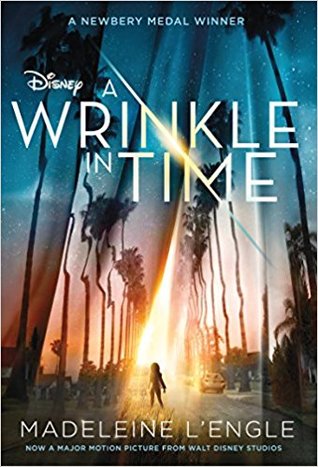 Title: A Wrinkle in Time (Time Quintet #1)
Author: Madeleine L'Engle
Release Date: 1962
Publisher: Square Fish
Format: Paperback
Page Number: 256
Source: The Country Bookshop
Meg Murry, her small brother Charles Wallace, and Calvin O'Keefe (one of the most popular boys in school) journey through time and space in search of Meg's father, a scientist who disappeared while engaged in secret work for the government on the tesseract problem. What's a tesseract? It's a wrinkle in time–but to say any more about the subject would rob the reader of the enjoyment of Madeleine L'Engle's unusual and enchanting book.
4 out of 5 stars
---
Middle grade!
Almost every single time I read a middle grade book it makes me question why I don't read them more often. I love the innocence and fun that happen in books written for younger readers, and this was the PERFECT book to read after ACOWAR.
This book follows Meg Murry who has a family that is a little different than most. She isn't very academically inclined, her younger brother is too smart for his own good, her twin brothers are kind of rude, her mother is a scientist, and her father has been gone on a government trip for more than 4 years. Meg's mother starts to explain about tesseracts to her after she finds out about them. Why are they so important, and why is her little brother friends with three old women?
This book was very cute, but I gave this 4/5 stars because there wasn't very much description. I don't know if this is just because L'Engle didn't want to explain too much about the world or if it is just normal for middle grade books to not have much description because kids are more imaginative, but I found it to be the bare minimum of description sometimes. I found it quite annoying because I just wanted to know what everything was like.
I look forward to seeing how the relationship between Calvin and Meg grows, and I'M SO EXCITED FOR THIS MOVIE.
There are so many great actors in this movie, and I love that it's a mixed race family. I think we need more of that in movies and books. I liked that they didn't really mention race in this book because it allowed you to imagine who you wanted.
This had many more Christian ideals that I thought would be in it. I didn't even know this was a Christian book, but I really enjoyed that aspect of it. The fact that the Mrs. Ws were the guardian angels was a nice addition to the story.
Can't wait to read the rest of the series!