Turtles All the Way Down – John Green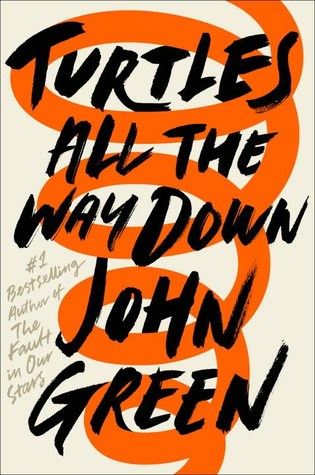 Title: Turtles All the Way Down
Author: John Green
Release Date: October 10, 2017
Publisher: Dutton Books
Format: Hardcover
Page Number: 304
Sixteen-year-old Aza never intended to pursue the mystery of fugitive billionaire Russell Pickett, but there's a hundred-thousand-dollar reward at stake and her Best and Most Fearless Friend, Daisy, is eager to investigate. So together, they navigate the short distance and broad divides that separate them from Russell Pickett's son, Davis. Aza is trying. She is trying to be a good daughter, a good friend, a good student, and maybe even a good detective, while also living within the ever-tightening spiral of her own thoughts. In his long-awaited return, John Green, the acclaimed, award-winning author of Looking for Alaska and The Fault in Our Stars, shares Aza's story with shattering, unflinching clarity in this brilliant novel of love, resilience, and the power of lifelong friendship.
5 out of 5 stars
---
I don't know why this book took me so long to pick up because I knew that I was going to love it. I had no idea that I was going to love it this much, though!
Turtles All the Way Down follows Aza who is living with OCD and anxiety. The book opens with her sitting at her lunch table with her friends and she is obsessively thinking about the microbiome in her gut and how more than half of her is made up of bacterial cells. She keeps spiraling through questions and answers in her head until she reverts back to her nervous habit; she pokes her thumb fingernail through the callused skin on her middle finger. She removes the band-aid, washes her hands, applies hand sanitizer to the wound, then puts on a new band-aid. All this just to ensure that she won't get infected and then get a disease.
This is just one example of how Aza is having to live with the mental illness of OCD. She obsesses over thoughts that spiral forever in her mind. She can't stop thinking, and is constantly in her own head. News gets out about a billionaire who left his family to escape a bad business scam. Aza knows the son of said billionaire, and her best friend Daisy convinces her to let them go and talk to the boy, Davis.
Aza hasn't talked to Davis since they attended a summer camp back in middle school, so she's worried about how he will react. She doesn't want him to think the only reason they're going to talk to him is because of the money, but she doesn't know how to make conversation, and she's anxious about the whole concept. The two girls go, and Aza is reminded of the crush she had on Davis way back when…
Seriously this book was amazing. Anxiety was represented perfectly in this book and I could relate to so many of the scenes in this book. I don't have OCD, but I know that this is an own voices novel as John Green has OCD, so I'm fairly positive that it was also accurately represented.
Sometimes John Green's characters can seem a little too quirky, but I found that all the characters were unique, but not unrealistic. I loved the relationships in this book. I really enjoyed Aza and Daisy's friendship because they were so different. I actually really enjoyed the conflict between them because it brought to light how hard being best friends with someone actually is.
My favorite relationship in this book was between Aza and Davis. The book mainly focused on their relationship, and I appreciated that it felt real. My wonderful mother has told me many times that sometimes the best friendships are only for a certain season in your life and that that is completely acceptable and great. I think that this friendship/relationship between Aza and Davis was perfectly timed for the both of them, but wasn't destined to last. Aza needed someone in her life and Davis was extremely lonely and needed someone who could listen and understand him. This relationship was for only a season of life, but benefited both of them so much that it's impossible to be angry at the outcome of the relationship.
SPOILERS:
I loved the ending of this book because it was so beautifully crafted. I loved that Aza and Davis didn't end up trying to make the relationship work even though he was moving away. I love that they let it end naturally and on great terms. The last two pages made my heart MELT because they were so perfectly written. The fact that he left her the painting that she loved and even though they weren't together she kept it with her and became a fully functioning adult it was just so cute. The ending was beautiful and I may or may not have read the last two pages a few times :)
END OF SPOILERS
I really loved this book and I think anyone who hasn't read it really should. The way that John Green portrayed the stream of consciousness was perfect and made you really feel like you were in the mind of Aza. This REALLY makes me want to read all the rest of his books *that I haven't read.*
I love that the book is called Turtles All the Way Down and that the reason is because Daisy tells Aza the story her mom used to tell her. I like the story of it just being turtles all the way down.
Great book. Highly recommend. I pretty much read it in a day :)