Shatter Me (Shatter Me #1) – Tahereh Mafi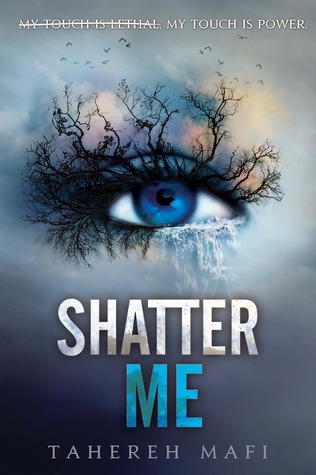 Title: Shatter Me (Shatter Me #1)
Author: Tahereh Mafi
Release Date: November 15, 2011
Publisher: Harpercollins
Format: Paperback
Page Number: 338
Juliette hasn't touched anyone in exactly 264 days.
The last time she did, it was an accident, but The Reestablishment locked her up for murder. No one knows why Juliette's touch is fatal. As long as she doesn't hurt anyone else, no one really cares. The world is too busy crumbling to pieces to pay attention to a 17-year-old girl. Diseases are destroying the population, food is hard to find, birds don't fly anymore, and the clouds are the wrong color.
The Reestablishment said their way was the only way to fix things, so they threw Juliette in a cell. Now so many people are dead that the survivors are whispering war – and The Reestablishment has changed its mind. Maybe Juliette is more than a tortured soul stuffed into a poisonous body. Maybe she's exactly what they need right now.
Juliette has to make a choice: Be a weapon. Or be a warrior.
3 out of 5 stars
---
I buddy read this book with Emily from her Booktube channel emibookish!
This is a dystopian novel following a girl named Juliette. She has a power that means she is unable to touch anyone without killing them, or coming close to killing them. She has never been loved. She hasn't touched anyone or been touched in over three years. Oh, and she's been in solitary confinement in an insane asylum for 264 days.
I loved the writing style of this book. It was beautiful and poetic and rambly, but it a wonderful way. The words flowed so perfectly that sometimes it felt like I was reading free verse poetry. I honestly think this was the easiest writing style to read!
I've always been intrigued by this book, so when Emily asked me to buddy read it with her I said ABSOLUTELY. ps. I LOVE buddy reading. So much fun. Anyway, I have always wanted to read this because it sounded interesting.
But here's the thing. I'm wonderful at avoiding spoilers/knowing anything about books before I read them. So I really had no idea what this was about, but I knew a lot of people loved it. So I was excited to pick it up, and it was absolutely NOTHING like what I thought it was going to be. Any preconceived notion was wrong.
Not bad wrong, just completely wrong. It's actually comical how much I had no idea what this book was about.
This was so much darker at the beginning than I was expecting. The book starts out with Juliette in her solitary confinement and she's pretty much going crazy because she hasn't seen another human being in 264 days. Then Adam comes and becomes her roommate in her cell. She has no idea why he's there, but she remembers him. She went to school with him and he is now with her. Alone. In her cell. Where she's been alone. She doesn't know how to cope, so she kind of freaks out.
But then the story progresses and Juliette gets taken away and finds out that Adam is a soldier who has been spying on her. INTENSE.
I enjoyed this book, but I do have to admit, the beginning was kind of slow. I've heard that the rest of the series is amazing, so I'm definitely going to continue on! I already downloaded the rest of the series onto my Nook…. oops.
I can't wait to read more from Tahereh Mafi because her writing style was GORGEOUS!