Scythe (Arc of a Scythe #1) – Neal Shusterman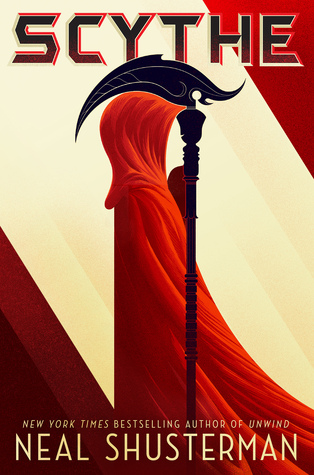 Title: Scythe (Arc of a Scythe #1)
Author: Neal Shusterman
Release Date: November 22, 2016
Publisher: Simon and Schuster Books for Young Readers
Format: Hardcover
Page Number: 435
Source: Public Library
Thou shalt kill.
A world with no hunger, no disease, no war, no misery. Humanity has conquered all those things, and has even conquered death. Now scythes are the only ones who can end life—and they are commanded to do so, in order to keep the size of the population under control.
Citra and Rowan are chosen to apprentice to a scythe—a role that neither wants. These teens must master the "art" of taking life, knowing that the consequence of failure could mean losing their own.
4 out of 5 stars
---
This book was so good and I TOTALLY understand all the hype surrounding it now.
Scythe follows Citra and Rowan, who are chosen to be apprentices to Scythe Faraday. It's unheard of, but not against the rules, to take on two apprentices. The scythes are trained to glean, or kill, people based on different statistics because humanity has beaten death. People don't die naturally anymore, so people have to take care of death. The apprentices are trained and undergo three tasks that will show if they're fit to be full scythes.
Reading a politically fueled book like this makes me wonder why I'm so interested in fictional politics, but not American politics. They just fall into separate categories, obviously, but I LOVE READING BOOKS FULL OF FICTIONAL POLITICS. They're so fueled and realistic and I'm just here for it. The whole governmental system of these scythes is so interesting and there are so many things right under the surface that could be easy to look over, but are so beneficial to the story.
I wasn't too sure how I felt about Citra and Rowan right away, because it's set up that they're going to fall for one another, but I ended up loving them individually and separately. Distance makes the heart grow fonder… I really enjoyed that Citra and Rowan ended up separated for part of their training because it really showed them growing individually, but also how they'll *eventually* complement each other.
The actual writing style was simplistic, but still detailed enough that it kept you interested. I have decided that I don't love short chapters. These chapters were SO SHORT (aka 40 chapters in this 435 page book) and it just took me out of the story a little bit. I do appreciate being able to stop at a chapter break, but there were just so many of them.
I loved that before every chapter there was a journal entry from one of the scythes mentioned in the book. A lot of them were from Scythe Curie and Scythe Faraday, but you also got to see other perspectives. I think this was a super cool addition, and you got so much background information from it. I think the way the book was set up was very telling of the skill of Neal Shusterman's writing.
The only reason I'm giving this 4 stars instead of 5 is because the pacing seemed very off to me. The beginning was fairly slow, and the ending happened so quickly. I'm all here for the slow burn of a great book, but I just found that I wasn't dying *pun intended* to pick up my book every second. If I were to rate the last half of the book, it would FOR SURE be 5 stars because so much happened and it was beautifully arced and crafted.
Okay. This ending. Wow wow wow. I couldn't put my book down for the last handful of chapters because they were so perfectly written. You can tell a lot of care was given to the ending of this book, because everything worked out just how you wanted it to. Even if the decisions weren't ideal, they were as ideal as they could have been. The cliffhanger at the end was absolutely perfect and I NEED the next book right now.
Also, the relationship between Citra and Rowan. Leaves just enough to the imagination that you are dying *ha* to see more, but there are also some things you're concerned about. Why did Rowan become so violent? How will they regard this relationship now? How the hell is anything going to work out?!
I'm just so excited to read the second book, Thunderhead, because I know so much is going to be explained. I hope I love it as much as I loved the last half of this book!
Yay for being out of my month-long reading slump! I'm so excited to be excited about reading again. I think I just need to space out my re-reads a little bit, because I was getting a little burnt out with the Cassandra Clare books. But I'm back and ready to read YAY!