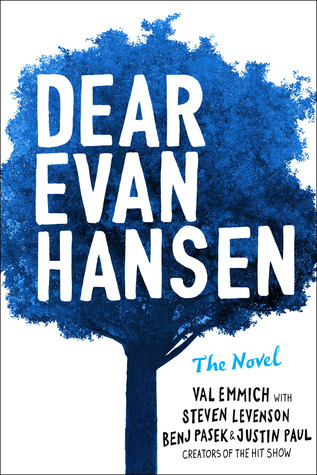 Title: Dear Evan Hansen
Author: Val Emmich
Release Date: October 9, 2018
Publisher: Poppy
Format: Audiobook
Page Number: 368
Source: Scribd
Dear Evan Hansen,
Today's going to be an amazing day and here's why…
When a letter that was never meant to be seen by anyone draws high school senior Evan Hansen into a family's grief over the loss of their son, he is given the chance of a lifetime: to belong. He just has to stick to a lie he never meant to tell, that the notoriously troubled Connor Murphy was his secret best friend.
Suddenly, Evan isn't invisible anymore–even to the girl of his dreams. And Connor Murphy's parents, with their beautiful home on the other side of town, have taken him in like he was their own, desperate to know more about their enigmatic son from his closest friend. As Evan gets pulled deeper into their swirl of anger, regret, and confusion, he knows that what he's doing can't be right, but if he's helping people, how wrong can it be?
No longer tangled in his once-incapacitating anxiety, this new Evan has a purpose. And a website. He's confident. He's a viral phenomenon. Every day is amazing. Until everything is in danger of unraveling and he comes face to face with his greatest obstacle: himself.
A simple lie leads to complicated truths in this big-hearted coming-of-age story of grief, authenticity and the struggle to belong in an age of instant connectivity and profound isolation.
4 out of 5 stars
---
I heard one of my close friends gushing about this musical when it came out. He told me that I should read the Wikipedia page and start listening to the soundtrack right away. I took his advice, but felt like a poser because I didn't think I had enough information. So when I saw that this was coming out as a book, I was IMMEDIATELY sold.
Dear Evan Hansen follows Evan as he's starting his senior year of high school. He has severe anxiety and really doesn't want to go to the first day, but his mom convinces him to go. He broke his arm over the summer, so she tells him that maybe he can have people sign his cast for him; get him to step outside his comfort zone a little bit. His therapist has been telling him to branch out and "put himself out there," so he decides to go to school.
It's just as bad as he thought it was going to be, but he keeps up with his therapist's assignment of writing letters to himself by starting with: "Dear Evan Hansen, Today's going to be an amazing day and here's why…" He's printing off his letter for his therapy appointment after school, and the school's bad boy, Connor Murphy, starts talking to Evan while he's printing out his letter. Connor asks Evan if he can sign his cast, but then Connor notices that the letter mentions his little sister Zoey, and immediately becomes defensive and takes the letter.
Connor committed suicide that very same night of the letter incident, and the letter was found in his pocket. As the letter was addressed to Evan, everyone starts to think that they were friends. Evan is called to the office the next day and is told the situation by Connor's parents, but instead of telling the truth about the letter, he starts to weave these lies about how he and Connor were secretly best friends, all for the benefit of trying to spare his family's feelings.
This book was so beautiful and powerful, and I think it would be amazing to read for a high school setting. The soundtrack of the musical is also amazing, and is so wonderful to listen to after reading this book. I loved the message of this book and will recommend it to plenty of people in the future.
I related to Evan as a character because of his anxiety and spiraling thought patterns. I know that anxiety is ridiculously hard to cope with, and sometimes you don't realize you're anxious until after the fact. I loved the way his character was written.
I also loved that the perspective changed throughout the book between Evan and Connor. It added such depth to the storyline, and I just can't gush about the book more.
I gave this 4 stars instead of 5 because I felt like the pacing was a little strange at certain points. This could be because I haven't had an extended period of time to read so it felt a little scattered.
Again, I think so many people could benefit from reading this book and listening to the soundtrack. I really want to go and see the musical live, but the tickets are so expensive… ugh life is hard. But on the bright side, this book is amazing.