Truly Devious (Truly Devious #1) – Maureen Johnson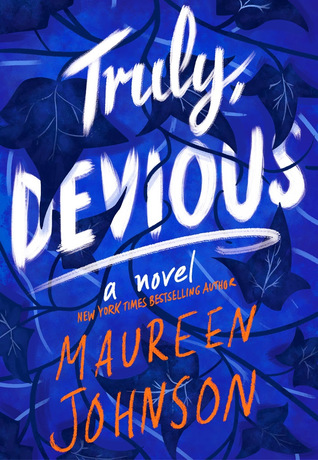 Title: Truly Devious (Truly Devious #1)
Author: Maureen Johnson
Release Date: January 16, 2018
Publisher: HarperCollins
Format: Hardcover
Page Number: 416
Source: Barnes and Noble
Ellingham Academy is a famous private school in Vermont for the brightest thinkers, inventors, and artists. It was founded by Albert Ellingham, an early twentieth century tycoon, who wanted to make a wonderful place full of riddles, twisting pathways, and gardens. "A place" he said, "where learning is a game."
Shortly after the school opened, his wife and daughter were kidnapped. The only real clue was a mocking riddle listing methods of murder, signed with the frightening pseudonym, Truly Devious. It became one of the great unsolved crimes of American history.
True-crime aficionado Stevie Bell is set to begin her first year at Ellingham Academy, and she has an ambitious plan: She will solve this cold case. That is, she will solve the case when she gets a grip on her demanding new school life and her housemates: the inventor, the novelist, the actor, the artist, and the jokester. But something strange is happening. Truly Devious makes a surprise return, and death revisits Ellingham Academy. The past has crawled out of its grave. Someone has gotten away with murder.
4 out of 5 stars
---
I would give the first half of this book 3 stars, but the last 150 pages TOTALLY redeemed it. I couldn't stop reading the last part of this book because I was completely hooked. Again, I find this to be a common trend that I'm having recently because of my lack of time to read. I always want to be reading and enjoying books, but I just don't have multiple hours a day to spend reading, but when I have the time, I enjoy the book so much more.
I have a plan to read more consistently, though. I'm going to actually do the #readingafter10 started by Ariel Bissett on her Instagram, and I'm going to limit the amount of time I spend on my phone. I don't know if anyone else uses the Screen Time setting on your iPhone, but it blows my mind. Last week I spend 18 hours on my phone. 18 hours of wasted time. I could have finished around 3 more books in that time!
Anyway, aside from the little tangent, I really enjoyed this book. It's been awhile since I read a mystery so it was really fun to try and figure out everything that was happening in the book.
I really liked the characters of this book, and I was kind of shocked that they were so young. I guess that's just me getting older, but it's weird to read about 14 year old high school students when you're 19 and in college. I, for some reason, just always imagine the characters I'm reading about to be my age even if they're totally not. Again, that's a me thing, not a this-book-kind-of-thing.
I REALLY can't wait to read the second book in this series because this one ended on such a cliffhanger. I need to know about the murders, the dry ice, the tea box, the… everything. I want to know what happens next!
I think this was the perfect book to read around Halloween time *even though it's technically the beginning of November now.* It was spooky and suspenseful, but not scary. Scary books just freak me the freak out, but I love a little spookiness around spooky season.
I can't wait to read the next book, because the plot is thickening and I'm so excited for it.
Series:
The Vanishing Stair (Truly Devious #2)