Clockwork Princess (The Infernal Devices #3) – Cassandra Clare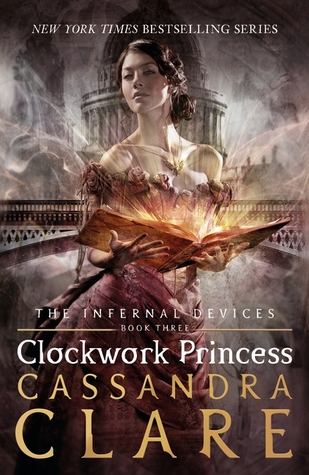 Title: Clockwork Princess (The Infernal Devices #3)
Author: Cassandra Clare
Release Date: September 5, 2013
Publisher: Margaret K. McElderry
Format: Paperback
Page Number: 567
Source: Barnes and Noble
Danger and betrayal, love and loss, secrets and enchantment are woven together in the breathtaking finale to the #1 New York Times bestselling Infernal Devices Trilogy, prequel to the internationally bestselling Mortal Instruments series.
THE INFERNAL DEVICES WILL NEVER STOP COMING
A net of shadows begins to tighten around the Shadowhunters of the London Institute. Mortmain plans to use his Infernal Devices, an army of pitiless automatons, to destroy the Shadowhunters. He needs only one last item to complete his plan: he needs Tessa Gray.
Charlotte Branwell, head of the London Institute, is desperate to find Mortmain before he strikes. But when Mortmain abducts Tessa, the boys who lay equal claim to her heart, Jem and Will, will do anything to save her. For though Tessa and Jem are now engaged, Will is as much in love with her as ever.
As those who love Tessa rally to rescue her from Mortmain's clutches, Tessa realizes that the only person who can save her is herself. But can a single girl, even one who can command the power of angels, face down an entire army?
Danger and betrayal, secrets and enchantment, and the tangled threads of love and loss intertwine as the Shadowhunters are pushed to the very brink of destruction in the breathtaking conclusion to the Infernal Devices trilogy.
5 out of 5 stars
---
I feel so redundant, but I love this series so much.
This is the best love triangle that I've ever read and it's so beautifully tragic. These are some of my favorite characters, and all I need is a William Herondale in my life. He's my favorite character, and if I could marry him, I promise I would.
I sat down and read half of this last night. I read almost 300 pages pretty much without moving. It was amazing, and just what I needed.
I love seeing all the connections with the different Shadowhunter families. Cassandra Clare is actually a genius, and I have no idea how someone could possibly be able to weave all of these different storylines together coherently. Everything makes sense throughout all the series, and it just makes me want to read the rest of the books right now.
Some spoilers are about to happen, so if you haven't read this book, stop reading this post….
My favorite scene was with Will and Tessa after he comes to save her in Wales. He's overcome with happiness at seeing her, and then goes through the stupid forcefield thing that Mortmain put up. Then they finally let their feelings for each other out and then after all of the passion and love, Magnus appears. It makes me laugh every single time.
I can't wait to read the rest of the Cassandra Clare books and then read The Queen of Air and Darkness!
Series:
Clockwork Angel (The Infernal Devices #1)
Clockwork Prince (The Infernal Devices #2)