Girl, Wash Your Face – Rachel Hollis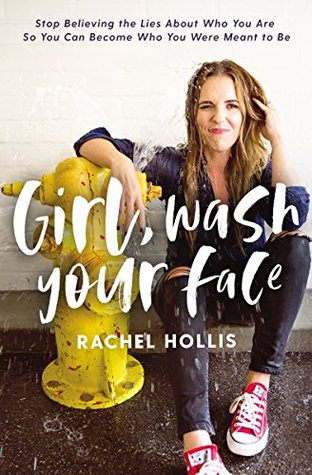 Title: Girl, Wash Your Face
Author: Rachel Hollis
Release Date: February 6, 2018
Publisher: Thomas Nelson
Format: Hardcover
Page Number: 240
Source: Gifted
Do you ever suspect that everyone else has life figured out and you don't have a clue? If so, Rachel Hollis has something to tell you: that's a lie.
As the founder of the lifestyle website TheChicSite.com and CEO of her own media company, Rachel Hollis developed an immense online community by sharing tips for better living while fearlessly revealing the messiness of her own life. Now, in this challenging and inspiring new book, Rachel exposes the twenty lies and misconceptions that too often hold us back from living joyfully and productively, lies we've told ourselves so often we don't even hear them anymore.
With painful honesty and fearless humor, Rachel unpacks and examines the falsehoods that once left her feeling overwhelmed and unworthy, and reveals the specific practical strategies that helped her move past them. In the process, she encourages, entertains, and even kicks a little butt, all to convince you to do whatever it takes to get real and become the joyous, confident woman you were meant to be.
With unflinching faith and rock-hard tenacity, Girl, Wash Your Face shows you how to live with passion and hustle–and how to give yourself grace without giving up.
5 out of 5 stars
---
This book was filled with so much wisdom and great advice, and I think any female-identifying individual would gain insight from this book. There were so many moments that it felt like Rachel Hollis was speaking directly to me! I loved pretty much everything about this book!
The writing style made this book so memorable to me. Rachel Hollis is so honest with all of her stories and advice, that it makes it so much more believable. Some self-help books make you feel like the author has it together and has this perfect life and is above you because they know something you don't, but Rachel Hollis writes like she's a real person. Crazy concept, but that's what makes it so great! She doesn't talk down to her readers, and just wants to create something useful for people to read.
There were a few chapters that I couldn't completely relate to because I'm not married and I don't have kids, but I there was something I could gain from every page of this book. I'm so excited to have kids in the future, so I know that I will be able to remember some of this book or reread it to help me more once I'm in that stage of my life.
I already want to reread this even though I just finished it. I feel like that always shows how great of a book it is! I annotated this book, so I have sections I liked underlined for future reference. I think I will love being able to flip through this book and read my underlined passages when I need some inspiration.
Another thing, this book was so inspiring. It made me want to get up and actually live my life. I'm only 19, so I think it's an amazing thing that I already feel like this, but I don't want life to just pass me by. I want to be the one controlling my world, and I think that's where the main message of the book comes in.
You are responsible for your own happiness.
I think I will come back to this mantra time and time again because IT'S SO TRUE. My mom has always told me that "you choose happiness" and that is exactly what the message of this book was, so I could completely relate to it. I love this because you truly are the one who decides your own life. Yes, there are situations you can't avoid, but you choose how you react to those situations.
FAVORITE QUOTES:
"You are in control of your own life. You get one and only one chance to live, and life is passing you by. Stop beating yourself up, and dang it, stop lettings others do it too. Sop accepting less than you deserve. Stop buying things you can't afford to impress people you don't even really like. Stop eating your feelings instead of working through them. Stop buying your kids' love with food, or toys, or friendship because it's easier than parenting. Stop abusing your body and your mind. Stop! Just get off the never-ending track. Your life is supposed to be a journey from one unique place to another; it's not supposed to be a merry-go-round that brings you back to the same spot over and over again."

"Stop waiting for someone else to fix your life! Stop assuming that some day it will magically improve on its own. Stop presuming if you only had the right job, the right man, the right house, the right car, the right whatever that your life will become what you've always dreamed of. Be honest about who you are and what you need to do to make change."

"Girl, get ahold of your life. Stop medicating, stop hiding out, stop being afraid, stop giving away pieces of yourself, stop saying you can't do it. Stop the negative self-talk, stop abusing your body, stop putting it off for tomorrow or Monday or next year. Stop crying about what happened and take control of what happens next."