Truly Devious (Truly Devious #1) – Maureen Johnson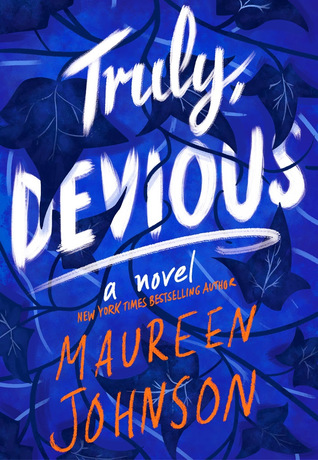 Title: Truly Devious (Truly Devious #1)
Author: Maureen Johnson
Release Date: January 16, 2018
Publisher: Harpercollins
Format: Hardcover
Page Number: 416
Source: public library
Ellingham Academy is a famous private school in Vermont for the brightest thinkers, inventors, and artists. It was founded by Albert Ellingham, an early twentieth century tycoon, who wanted to make a wonderful place full of riddles, twisting pathways, and gardens. "A place" he said, "where learning is a game."
Shortly after the school opened, his wife and daughter were kidnapped. The only real clue was a mocking riddle listing methods of murder, signed with the frightening pseudonym, Truly Devious. It became one of the great unsolved crimes of American history. 
True-crime aficionado Stevie Bell is set to begin her first year at Ellingham Academy, and she has an ambitious plan: She will solve this cold case. That is, she will solve the case when she gets a grip on her demanding new school life and her housemates: the inventor, the novelist, the actor, the artist, and the jokester. But something strange is happening. Truly Devious makes a surprise return, and death revisits Ellingham Academy. The past has crawled out of its grave. Someone has gotten away with murder.
4 out of 5 stars
---
Okay. I think I'm FINALLY OUT OF MY READING SLUMP!
This is the second time I've read this book because I REALLY wanted to continue on with the series, but didn't really remember what happened, and I think I liked it even more the second time.
Truly Devious follows Stevie trying to actually solve the Ellingham case from the 1930s. Two people died, and one is still technically missing. Stevie is obsessed with detective work and she loves true crime, so when she got accepted to the Ellingham school she dove into trying to learn more and solve the case.
Super cool concept, and it was executed SO WELL.
I forgot how much I love rereading books, and I was a little concerned because I haven't ever reread a mystery, but it's so cool to see all the clues when they're happening! I also remembered way more than I thought I would, but it was great because then I could follow along easily with what I remembered.
I'm so excited to see where the second book goes, and I'm actually going to start it right after I finish writing this. This book set up the next so well.
Series:
The Vanishing Stair (Truly Devious #2)
Aubrey Joy