Leah on the Offbeat (Creekwood #2) – Becky Albertalli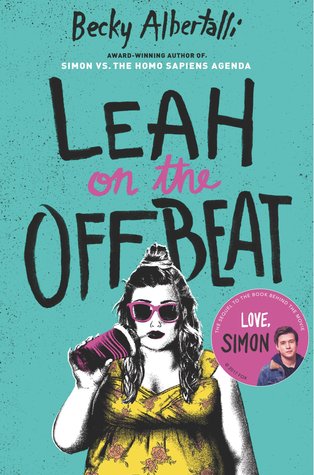 Title: Leah on the Offbeat (Creekwood #2)
Author: Becky Albertalli
Release Date: April 24, 2018
Publisher: HarperCollins
Format: Audiobook
Page Number: 343
Source: Scribd
Leah Burke—girl-band drummer, master of deadpan, and Simon Spier's best friend from the award-winning Simon vs. the Homo Sapiens Agenda—takes center stage in this novel of first love and senior-year angst.
When it comes to drumming, Leah Burke is usually on beat—but real life isn't always so rhythmic. An anomaly in her friend group, she's the only child of a young, single mom, and her life is decidedly less privileged. She loves to draw but is too self-conscious to show it. And even though her mom knows she's bisexual, she hasn't mustered the courage to tell her friends—not even her openly gay BFF, Simon.
So Leah really doesn't know what to do when her rock-solid friend group starts to fracture in unexpected ways. With prom and college on the horizon, tensions are running high. It's hard for Leah to strike the right note while the people she loves are fighting—especially when she realizes she might love one of them more than she ever intended.
4 out of 5 stars
---
I listened to this on audiobook on my drive back to college and it made the 5 hour drive FLY by. I always listen to my audiobooks at 1.5x speed, so that's how I was able to finish it during the drive.
I really enjoyed this book and I think it was a good continuation/conclusion of the Creekwood series. I liked that Simon and the rest of the characters were almost central characters. The story stayed within the friend group which was kind of cool. I wish that I would have read this right after I finished Simon Vs. The Homosapiens Agenda, but I don't think it was out when I read it.
I was kind of annoyed with how much swearing there was throughout this. It was so unnecessary and really didn't have anything to do with the plot of the story. I think unnecessary swearing is one of my biggest pet peeves, so this could just be me being hyper-focused, but…
I think Leah was a cool character and some of her stories and scenes were very relatable. I find it kind of interesting that the whole book is about Leah being bisexual, but there wasn't much about her wanting to be with a guy. She was very focused on being with a girl, which is fine, but I didn't see how it was about her bisexuality, though.
I loved seeing Simon and Bram from the first book because they're just so cute. I really think that that is one of my favorite relationships from a YA book.
Series:
Simon Vs. The Homo Sapiens Agenda (Creekwood #1)