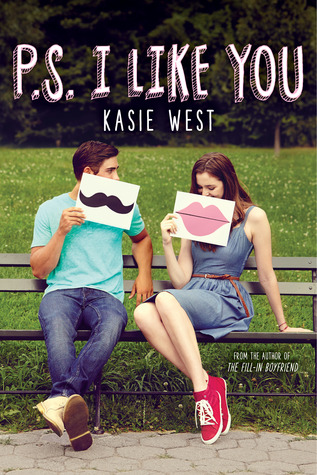 Title: P.S. I Like You
Author: Kasie West
Release Date: July 26, 2016
Publisher: Point
Format: Ebook
Page Number: 330
Source: Libby app
Signed, sealed, delivered…
While spacing out in chemistry class, Lily scribbles some of her favorite song lyrics onto her desk. The next day, she finds that someone has continued the lyrics on the desk and added a message to her. Intrigue!
Soon, Lily and her anonymous pen pal are exchanging full-on letters—sharing secrets, recommending bands, and opening up to each other. Lily realizes she's kind of falling for this letter writer. Only, who is he? As Lily attempts to unravel the mystery and juggle school, friends, crushes, and her crazy family, she discovers that matters of the heart can't always be spelled out…
3 out of 5 stars
---
Predictable? Yes. Still cute? Also, yes.
P.S. I Like You follows Lily and a secret penpal from chemistry class who originally bonded over a shared love for a particular song. Their mutual respect for said song turned into daily letters passed back and forth between them. After daily exchanges and getting to know one another, Lily realizes that she's fallen for this secret boy. Why oh why did this boy have to only be on paper?! Who was he? Did he also have feelings for Lily?
This book was a little cheesy, but there were also moments I thought were pretty adorable. The whole letter writing thing was super cute and I secretly wish it had happened to me. I'm very partial to letters, so that could be part of it, but also a cute boy waiting on the other end? Sounds pretty great to me.
After Lily finds out who this secret boy of hers is, she freaks her freak out. He's not who she wants him to be and she holds that against him… viciously. This is the part that bugged me about this book because come on. You obviously like him, why continue hating him in person. Get it together. It just seemed unbelievably childish to me. Can you not set aside your differences to just try and get to know this boy? Honestly.
I loved the family dynamic in this book because they were all so close. One of my favorite things in books is a tightly bonded family because it reminds me of mine. I loved Lily's siblings and her parents were fun side characters.
The music aspect of this book was a cool choice because we got to see a little more into Lily's head. She writes lyrics throughout the book and we got backstory on why she wrote them. Pretty nice.
This was a really nice audiobook because it was fast-paced and easy to listen to. I started it on my drive home from school for a weekend and finished it whilst walking to and from class. I've fallen in love with audiobooks again YAY!
Would I reread this book? Probably not, but I did enjoy it while listening to it. I think it's a cute, fast contemporary :)
Guys. I've done it. I've conquered this reading slump I've been in for a few months! I'm actually excited to read again, which is AMAZING. Also, yay for book 20 of the year.
Aubrey Joy