Rebellion (The 100 #4) – Kass Morgan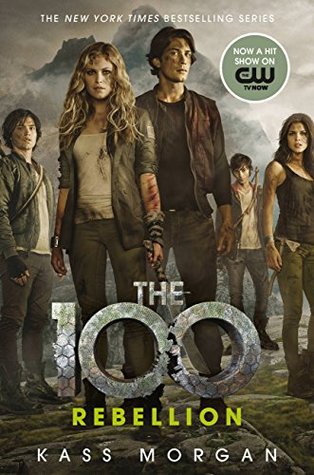 Title: Rebellion (The 100 #4)
Author: Kass Morgan
Release Date: December 6, 2016
Publisher: Little Brown Books
Format: Paperback
Page Number: 294
Source: TBR Pile
It's been a month since the new dropships landed and the rest of the Colonists joined the hundred on the ground. The teens, once branded juvenile delinquents, are now leaders among their people. It should be a time for celebration and togetherness, but a new threat appears before long: a fanatical cult determined to grow its ranks and "heal" the war-ravaged planet . . . by eliminating everyone else on it.
After scores of their friends are captured, CLARKE sets off to retrieve them, certain that she can come to an understanding with these strangers. BELLAMY has a different plan; he won't let anything–or anyone–get in the way of saving the people he loves. Meanwhile, in captivity and scared for their lives, GLASS falls under the spell of the cult's magnetic message, and WELLS has to learn how to lead again. Unless the rescue party arrives soon, the teen captives will face a fate more terrifying than anything they could imagine.
If the hundred ever want to call this dangerous planet home, they'll need to put aside their differences and fight to protect themselves and their world.
4 out of 5 stars
---
2017 Popsugar Reading Challenge
A book set in the wilderness
A book where the main character is a different ethnicity than you
A bestseller from 2016
Winter Biannual Bibliothon
Throwback – finish a series you already started
2016 release
---
Great ending to a unique and addictive series! I loved the first book when I read it back in June of 2015. If I remember correctly, I read that book in one day. The second and third books weren't as great as the first, but were still enjoyable, and this book was a wonderful closer.
There were some problems with this book, but overall I really enjoyed reading it. I read most of the book yesterday, minus 30ish pages. The thing with Kass Morgan's writing is that you really fly through it. This is one of the instances where multiple perspectives actually enhances the storyline. I am usually not a huge fan of multiple perspectives because it gets kind of confusing. I get confused with dual perspective sometimes! But, Morgan really makes the characters very distinctively their own so it's easy to understand who's who.
This book starts out way too good to be true. The original 100 and their families and some of the Earthborns are living in harmony down in a settlement. They're having this huge festival to celebrate being together and celebrate their harvest for the year, when they suddenly get attacked by a cult who call themselves The Protectors. Pretty ironic. These Protectors bring some of the teenage/young adult characters into their fortress which they call Stone. There, the men have to train and be very strong, and the women are the leaders. The leader of this cult, Soren, takes a liking to Glass and takes her as her maid. Glass gets inside information, and she helps let everyone know the best ways to escape and get back home. What the prisoners on the inside don't know, is that Bellamy, Clarke, and a few others are outside waiting to come and save them.
I really enjoyed the suspense of this book. There was almost always action or plotting going on, and it was cool to see some of the characters take to becoming leaders. Some of my problems with this book dealt with the romance between Bellamy and Clarke. I have been shipping this since the first book, so I could overlook some of the cringe for the good parts. Bellamy is VERY sensitive and doesn't understand why Clarke doesn't trust him. So he becomes very jealous of guys around Clarke. He is a baby about some things, and he and Clarke overreact to some situations. I mean you're trying to save your friends right now; band together and help them. But such is life. You have to have some teen angst.
If you've read The 100 series and are hesitant to pick up this last book, please read it! It's definitely worth it!
Series: