In Real Life – Cory Doctorow and Jen Wang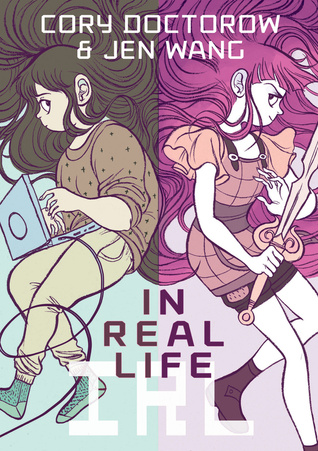 Title: In Real Life
Author: Cory Doctorow and Jen Wang
Release Date: October 14, 2014
Publisher: First Second
Format: Paperback
Page Number: 175
Source: Public Library
Anda loves Coarsegold Online, the massively-multiplayer role-playing game where she spends most of her free time. It's a place where she can be a leader, a fighter, a hero. It's a place where she can meet people from all over the world, and make friends.
But things become a lot more complicated when Anda befriends a gold farmer–a poor Chinese kid whose avatar in the game illegally collects valuable objects and then sells them to players from developed countries with money to burn. This behavior is strictly against the rules in Coarsegold, but Anda soon comes to realize that questions of right and wrong are a lot less straightforward when a real person's real livelihood is at stake.
4 out of 5 stars
---
Anda is a gamer, and she gets invited to join a game called Coarsegold Online by a woman who comes to talk to her computer class at school. She gets told that she won't have to pretend to be a boy in the game because there is an all girl group in this game. Everything is great, until she's told she needs to go and kill some gold-farmers, because they're just mooching off the system.
So she goes, but she finds that they don't fight back, but she goes through with the orders anyway. Later, she meets a gold-farmer who speaks English and talks back to her about what's happening. She befriends him against her leader's wishes.
She finds times to talk to him and finds out he lives in China and doesn't make much money, so he has to work a lot. She decides to try and help him…
The artwork is literally everything I've ever wanted from a graphic novel. It's kind of like watercolor, and the colors are so vibrant and beautiful. It's pretty much all pastels and very saturated color; I highly recommend reading it just for the fact that the art is GORGEOUS.
I'd say that the story is a pretty solid 3/5 stars, but the artwork sold me. Oh my gosh I'm in love. I think the message was good, and this would be good for any gamer girls who just feel out of place in the male dominated gaming world. I am personally not a gamer, but I could still relate to this.
I've been really getting into graphic novels/comics recently and would LOVE some recommendations. The library in my town for college is amazing and has tons of different options. Please, please, please give me some graphic novel/comic/manga recs!