Obsidio (The Illuminae Files #3) – Amie Kaufman and Jay Kristoff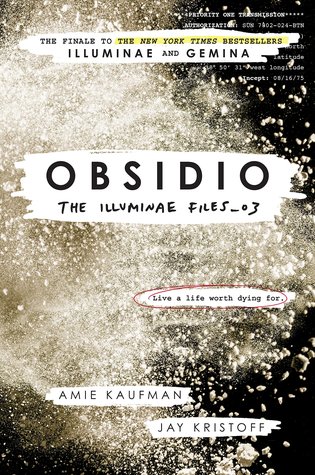 Title: Obsidio (The Illuminae Files #3)
Author: Amie Kaufman and Jay Kristoff
Release Date: March 13, 2018
Publisher: Knopf Books for Young Readers
Format: Hardcover
Page Number: 615
Source: Local Bookstore
Kady, Ezra, Hanna, and Nik narrowly escaped with their lives from the attacks on Heimdall station and now find themselves crammed with 2,000 refugees on the container ship, Mao. With the jump station destroyed and their resources scarce, the only option is to return to Kerenza—but who knows what they'll find seven months after the invasion?
Meanwhile, Kady's cousin, Asha, survived the initial BeiTech assault and has joined Kerenza's ragtag underground resistance. When Rhys—an old flame from Asha's past—reappears on Kerenza, the two find themselves on opposite sides of the conflict.
With time running out, a final battle will be waged on land and in space, heroes will fall, and hearts will be broken.
4 out of 5 stars
---
This series reminds me that I need to read sci-fi more often because I LOVED the science-y and space aspects to this book!
In Obsidio we follow the crew from Illuminae and Gemina as they come together to try and figure everything out that is going wrong for everyone. Update: a lot of bad things have happened. A lot of people have died, and it's all because of BeiTech.
I found this book to be quite enjoyable and pretty easy to read. I've had crazy school work and finals are this week so that's why it has taken me a little longer than it normally would, but I enjoyed this! I think it was a great conclusion to the series and I'm excited to read the new series they are writing together, too.
Finals week is not my friend right now because all I want to do is NOT STUDY. It's my birthday tomorrow and I just REALLY don't want to have a two hour test as a way of celebrating. It's fine, I'll be home by the end of the week. Anyway, back to the book lol
The only reason I didn't give it 5 stars is because parts of it dragged for me. There were a LOT of the surveillance footage parts and those took longer to read, obviously, because it's like a normal book page. I know, struggles of being a reader.
I liked the characters and I enjoyed the couples of this story. I was kind of confused because I thought two people died and then it was like ha jk nope they're still happily alive. But it's fine. I mean everyone gets to be happy.
I actually really liked reading about AIDAN because you don't want to like him/it but he is pretty funny sometimes. I think it's funny that he doesn't understand the humor and sarcasm so he just gets confused all the time, but also has access to all of the information ever. It's just an interesting dynamic.
I really liked that the whole series was set up to be what Kady and the rest of the gang sent out as their evidence that BeiTech was the enemy. I think that it's a cool way to format the book and I found myself really intrigued with that idea.
I think this series is fun and would be a great way to get non-readers to read. I think the fun format would encourage middle schoolers/early teens to want to read without feeling forced. I kind of wish I would have listened to the audiobook because I've heard it's really amazing, but I'm not about to spend money on it if my library doesn't have it….
Highly recommend this series!
Series:
Illuminae (The Illuminae Files #1)
Gemina (The Illuminae Files #2)