Love & Gelato – Jenna Evans Welch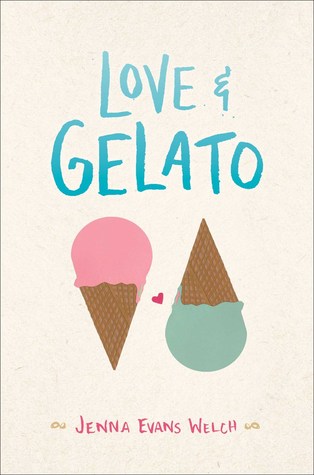 Title: Love & Gelato
Author: Jenna Evans Welch
Release Date: May 3, 2016
Publisher: Simon Pulse
Format: Hardcover
Page Number: 389
Source: Public Library
"I made the wrong choice."
Lina is spending the summer in Tuscany, but she isn't in the mood for Italy's famous sunshine and fairy-tale landscape. She's only there because it was her mother's dying wish that she get to know her father. But what kind of father isn't around for sixteen years? All Lina wants to do is get back home.
But then she is given a journal that her mom had kept when she lived in Italy. Suddenly Lina's uncovering a magical world of secret romances, art, and hidden bakeries. A world that inspires Lina, along with the ever-so-charming Ren, to follow in her mother's footsteps and unearth a secret that has been kept for far too long. It's a secret that will change everything she knew about her mother, her father—and even herself.
People come to Italy for love and gelato, someone tells her, but sometimes they discover much more.
5 out of 5 stars
---
I loved this book so much. I'm just having such great luck with contemporaries lately!
This book followed a girl named Lina who goes to live with a father she's never met right outside of Florence after her mother dies of cancer. Lina gets to Italy and realizes that she's going to have to live in a house at a cemetery. It's a WWII cemetery and is no longer used for new burials, but still. She goes on her daily morning run and meets a boy her age named Ren. They quickly become friends and she starts spending a lot of time with him. In the meantime, one of her father's friends gives her a journal from her mother during her time living in Italy. She reads through it piece by piece, but the journal becomes an object of mystery. Her mother explains stories about her time in Italy and Lina realizes her father might not be who she thinks he is…
This reminded me so much of my trip to Italy that I took two years ago. The description of travel was so accurate it almost hurt. Lina's initial response to walking up to the Duomo in Florence was exactly how I felt. It was amazing.
Her first taste of gelato was exactly how I felt. The small adventures were just as important as the big ones. It was the perfect depiction of having new experiences.
Then there's Ren. Oh my gosh I love him so much. Right away you know that she's going to fall for him because she HAS to. He's cute, half-Italian, quirky. He's perfect. I love them together.
I love her father. He's so sweet and loves her so much. I love that it's not a "typical" familial tie but it works so well.
I love that there's a little mystery when it comes to the journal.
There was just so much to love about this book and it just makes me want to go travel in Italy again!