The Assassin's Blade (Throne of Glass #0.4, #0.5) – Sarah J. Maas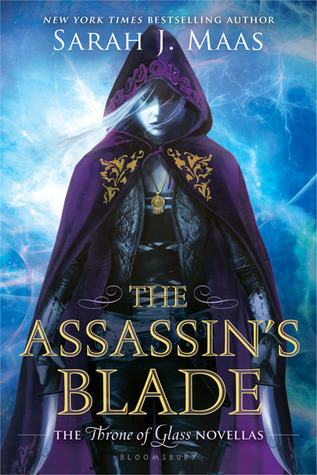 Title: The Assassin's Blade (Throne of Glass #0.1, #0.2, #0.3)
Author: Sarah J. Maas
Release Date: March 4, 2014
Publisher: Bloomsbury
Format: Paperback
Page Number: 438
Source: TBR Shelf
Celaena Sardothien is her kingdom's most feared assassin. Though she works for the powerful and ruthless Assassin's Guild, Celaena yields to no one and trusts only her fellow killer for hire, Sam.When Celaena's scheming master, Arobynn Hamel, dispatches her on missions that take her from remote islands to hostile deserts, she finds herself acting independently of his wishes–and questioning her own allegiance. Along the way, she makes friends and enemies alike, and discovers that she feels far more for Sam than just friendship. But by defying Arobynn's orders, Celaena risks unimaginable punishment, and with Sam by her side, he is in danger, too. They will have to risk it all if they hope to escape Arobynn's clutches–and if they fail, they'll lose not just a chance at freedom, but their lives . . .A prequel to Throne of Glass, this collection of five novellas offers readers a deeper look into the history of this cunning assassin and her enthralling–and deadly–world.Included in this volume: "The Assassin and the Pirate Lord""The Assassin and the Healer""The Assassin and the Desert""The Assassin and the Underworld""The Assassin and the Empire"
---
The Assassin and the Underworld (Throne of Glass #0.4)
5 out of 5 stars
Aww to the ending of this.
This novella followed Celaena after she gets back from the Silent Assassin camp in The Assassin and the Desert. She comes back and gets showered with gifts from Arobynn Hamel and has enough money to be free from her debts from him. Arobynn gives her a mission that will fight against the slave trade that started off this novella series.
Sam.
Okay, so I knew that she liked Sam, but so cute omg. Everyone can be an asshole sometimes, but Celaena and Sam are the masters of this. They so obviously like each other and have for forever, so the way they're just mean to each other killed me, but it's fine. I'm over it… kinda.
SPOILERS
So Sam and Celaena go on this mission to kill this guy who they find out is actually the good guy. That sucks, but what could be worse? Oh yeah, your boss using your money to buy the virginity of the girl you hate more than anyone. Oh but on top of that, you're blamed for everything. I was pissed off for Celaena and I just want her to go and kill Arobynn because he's not okay.
I was fully convinced that Sarah J. Maas was going to kill off Sam, but she didn't yay! I love Sam. He's sweet and cute and funny and nice and sarcastic mmm. He's my fav. So at the end fo this Celaena pays off his debt and then they move in together in her new apartment that she told Arobynn she was moving into. Cute.
I feel it now, though. Sam is going to die. Because everything is too perfect right now. Their first kiss was too cute and when he told her that he loved her omg aww. But something bad is going to happen and it hurts me, but it's just my prediction.
---
The Assassin and the Empire
5 out of stars
I'm broken from that.
So I literally read this in one sitting. Didn't even get up. All 94 pages of it. I couldn't help it because it was so good.
Don't read this if you haven't read this novella, but I was right.
I knew I was going to be right because that's usually how it works. (not tooting my own horn but I'm good at predicting endings). Poor Sam. Poor Celaena.
Oh my gosh ugh no why sadness.
So this novella followed Celaena and Sam after they leave the Assassin's Keep and they're living together in Celaena's apartment. They have no money but have to pay Arobynn Hamel their debt to get out of the Guild, which is super messed up and is totally a horrible monopoly, but they want to move away to the Southern Continent to create a new life for themselves, and Sam takes on a job that will pay super well, and it. Goes. Down.
My heart is so sad because I didn't want what happened to Sam to happen, and I hated seeing Celaena hurting like she was. It's not fair that she has to endure even more pain, and fricking Arobynn Hamel is the one who gave her up. Oh my lord I literally almost threw my book across the room when I found out it was him. I had the suspicion it was him from the moment he took on the job, but ugh not okay.
I can't wait for her to find out that it was him that gave them up because she's going to murder him in the worst way possible because he took Sam away from her. Oh my lord and she never got to tell him about her childhood it's just so sad.
ps. I know there are a lot of run-on sentences, give me a break. I have a lot of emotions happening.
I KNEW it was going to happen. And that's the worst part because I don't feel like I was actually prepared for it emotionally.
The ending was so powerful and just made me want to re-read Throne of Glass *which I will,* but she used Sam's mantra. Aww. So sad but aww. She is strong and she will survive it, and going into the first book (again) will make me understand more about her and her backstory and I'm just so excited :) :) :)
yay I love Sarah J. Maas.
Series:
The Assassin and the Pirate Lord (Throne of Glass #0.1)
The Assassin and the Healer (Throne of Glass #0.2)
The Assassin and the Desert (Throne of Glass #0.3)